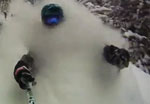 Ok, so I could sit here and think of something clever to write to talk up this video taken from Fernie yesterday… though, I really don't need to. It speaks for itself.
Here's a warning though: It contains footage that is guaranteed to make a skiier drool!
Told you! Completely ridiculous right?!?! Fernie has claimed 111cm of fresh snow in the past 48 hours, though according to when that video was taken, they had "only" received 72cm or so at that stage.
Fernie ski resort is an absolute gem and we are big fans here at Snow Report TV. The bowls are fun, the trees are awesome and the town is one of the best ski towns you can find anywhere. Combine that with over a meter of fresh champagne powder and you will understand why people never want to leave.
The only downside (if there is one) about this current storm is that it has been REALLY cold. Check the temps from today in the image. Colder temperatures have their benefits though, as it certainly keeps the snow in outstanding condition and keeps a lot of people off the hill.
Temperatures should start warming on Friday, though more snow is in the forecast, so if you are considering a trip to the Powder Highway, we'd suggest you get your bags packed right now. Let us know if you are headed out to Fernie and be sure to send us some photos and videos of the snowfall they have had.